Preschool & Pre-K in Stoughton, MA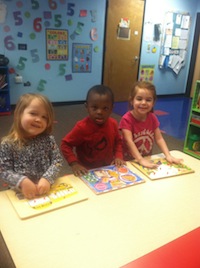 The school at Kidsports is dedicated to providing excellent care and a safe and fun learning environment for children ages 2 years, 9 months to 14 years. We care about your entire family, striving to teach and care for children and meet the needs of busy parents. We offer a range of program options to fit your family's schedule. Kidsports offers comprehensive programs that encourages each child, and makes them feel welcomed and challenged in an environment where participation is the key to learning!
Kidsports classrooms are large, bright, and filled with learning materials, toys, and games. All KidsSchool classes have a full day of learning and fun. Daily activities include fundamental learning activities (letters, numbers, reading), story time, art projects, and physical education/activities in our gymnasium and outdoor playground. Nutritious snacks and juice/milk are provided to each student daily.
Our teaching staff combines energy and maturity to provide children with a learning environment that features plenty of individual attention for our students. We place a high value on listening as well as teaching – and our teachers are experts at both! OCCS certified teachers and assistants – trained and experienced professionals who care deeply for their students – conduct all KidsSchool classes.
Preschool
Our goal in the Preschool program is to begin building the children's awareness of the world around them through the development of social, emotional, cognitive, and communication skills. Each activity is taught with a developmental approach that allows children to learn at their own pace.
Pre-Kindergarten
The Pre-Kindergarten program is geared toward preparing children for public school Kindergarten. While the curriculum is more challenging, the focus remains on the individual child and lessons and activities are still led with a developmental approach.